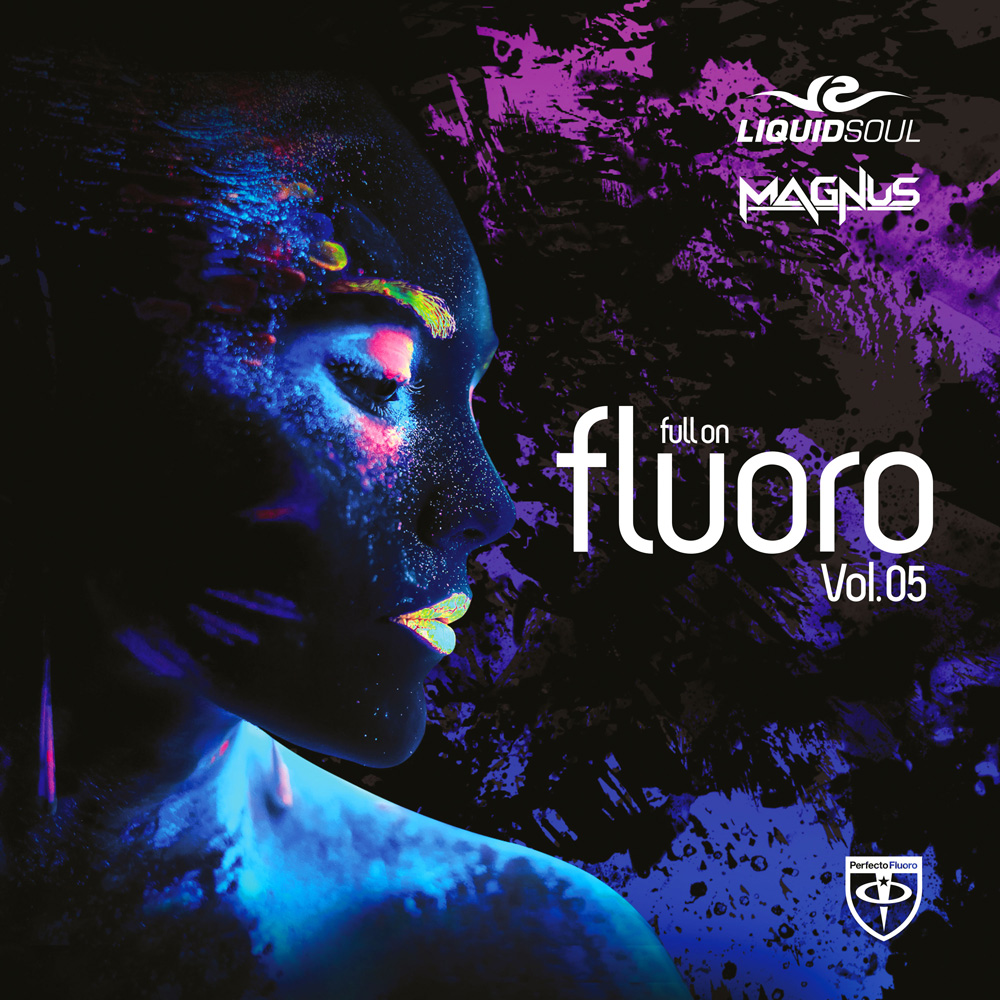 Firing Fluoro 5's starting canon comes the bassy thrall of Liquid Ace's 'Neurochemistry', with Nicola 'Liquid Soul' Capobianco offering an acidic chaser from Ace Ventura & Symbolic with 'The World That You Know'. Zyce & Liquid Soul slip in a straightener with the ethereal ethnic mantras of 'I See You', before his Captain Hook collab 'Liquid Hook' sees it jump those reality-rails once again.
Interactive Noise's potty-mouthed 'FKing Bass Line' rips up a few more rulebook chapters, heralding in turn more of Liquid's collaboratory own. Timelock team-up 'Children of Earth' wobbles the synapses, while Nicola's back, but two tracks later alongside Vini Vici for more brain oscillating matter via 'Universe Inside Me'. Locking and cocking his final salvo, he lets rip with E-Clip's 'Another World', 'Lust' from Velocity, Antinomy's ever so feisty 'A New Dawn' and Symphonix rewrap of Ticon's mind-melter, '1987'.
While the speakers still have something left in em, Magnus wrestles the reins away, delivering the release's second mix. With it comes his definitive take on the Psy sound. Cooler and more refined… well that's too much to say, but Seattle's psy sovereign does bring a sleeker, more streamlined and energy-focussed profile to his mix. Basslines run longer, its FX is thermally hotter and more harmonics see the light. Dialling down the eclectics (some!), he dials up in atmosphere and the mix also shows Magnus's inclination towards the scene's nu-blood names. Having opened his disc with a 2019 rebuild of his own 'Sinelock', he flows into the likes of ORAW's 'Perfect Reaction', 'Ocean Dreams' from Altered Space and Jirah's 'Desert In Bloom'. Following the psyche-out of Modgen's 'Our Existence' Jirah's straight back alongside Magnus for 'Furthest Reach'. Cooking the pressure right up to the redline, Magnus finally blows the lid with ORAW & Seegmo's remix of Yahel's 'Ocean' and URIYA's fantastical 'Somnambulism'.
Psy seen through left lens and right, you can pre-order/bookmark 'Liquid Soul & Magnus – Full On Fluoro Vol. 5 here (https://bit.ly/2YcBvlY)
Liquid Soul & Magnus – Full On Fluoro Vol. 5
Mix 1 – Liquid Soul
Liquid Ace – Neurochemistry (Indianix Remix)
02. Ace Ventura & Symbolic – The World That You Know (GMS Remix)
03. Zyce & Liquid Soul featuring Solar Kid – I See You
04. Liquid Soul & Captain Hook – Liquid Hook (Interactive Noise Remix)
05. Symphonix – Distorted Silence
06. Interactive Noise – FKing Bass Line
07. NOK – Thirteen Days
08. Liquid Soul & Timelock – Children of Earth
09. Sphera & Outsiders – Matter of Fact
10. Vini Vici & Liquid Soul – Universe Inside Me
11. Zentura – Light Mutations (Antinomy Remix)
12. E-Clip – Another World
13. Animato & Off Limits – Basic Ingredients
14. Velocity – Lust (3 Of Life vs Domestic Remake)
15. Antinomy – A New Dawn
16. Ticon – 1987 (Symphonix Remix)
Mix 2 – Magnus
Magnus – Sinelock 2019
02. ORAW – Perfect Reaction
03. Altered Space – Ocean Dreams
04. Dominant Space – Eternal Spirit
05. Jirah – Desert In Bloom
06. Modgen – Our Existence
07. Jirah & Magnus – Furthest Reach
08. Fisical Project & Rysto – Relive
09. Dominant Space – Indigo
10. Omjee – Wakup
11. Magnus & Sentinel 7 – Stay True
12. Yahel featuring Tammy – Ocean (ORAW & Seegmo Remix)
13. URIYA – Somnambulism
facebook.com/liquidsouliboga
facebook.com/MagnusMusic/
blackholerecordings.com
soundcloud.com/blackholerecordings
facebook.com/blackholerecordings
twitter.com/BlackHoleRec
instagram.com/blackholerecordings/